Our Practitioners
Floatation Therapy:
Taryn Marchie
Kaley Drayovitch
Alice Watson
Hannah Byrd
Andrea Clarke
Massage Therapy:
Intuitive Counseling & Energy Work:
The Oly Float & Soul Space Team
Specialty Areas: Floatation Therapy
Everyone you meet at Oly Float & The Soul Space is an experienced floater and can address any questions you have about floatation therapy and sensory reduction & relief. Oly Float & The Soul Space is a independent business co-operatively owned by Dan
Larsen and Taryn Marchie . As owner-operators of Oly Float and The Soul Space, they are among the world's leading pioneers in floatation therapy, with experience in custom-designing premier float tank experiences that transcend the pre-built commercial tanks at many other floatation therapy centers. Along with the owner-operator team, you will also meet a variety of experienced float guides, as well as our amazing team of float ambassadors who help out at The Soul Space.
Whoever you talk with at Oly Float, we'll help you identify the best approach to addressing your personal health and wellness needs, whether it's for injury management, sports performance enhancement, meditation and mind training, recovery from trauma, or just simple relaxation and escape from daily stress for an hour or two.
Dan Larsen
Specialty Areas: Energy Work, Applied Kinesiology, Allergy Elimination, Epigenetics, Floatation Therapy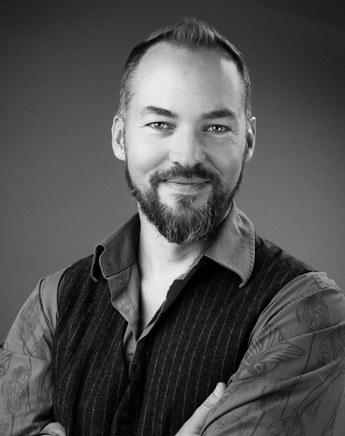 Dan wears many hats at Oly Float & The Soul Space. He is co-owner of the center, as well as its "Chief Experience Officer" and General Manager. Alongside serving as an experienced float guide, Dan is also an energy worker with Intuitive Being. Dan and Intuitive Being offer a range of wellness and energy work services designed to free you of your emotional baggage, re-pattern core beliefs, align body, mind and soul, and help clients remember their true self prior to challenging or traumatic experiences that changed how they thought about themselves. He employs a variety of healing modalities to perform clearings for those imbalances, including sound healing, electromagnetic stimulation, hands-on healing that includes reiki and qigong, light therapy, and more. He loves helping people with chronic, difficult states and conditions that other therapies have been unable to heal or resolve.
Dan's journey to the healing arts was an unconventional one. Evolving through atheistic emptiness, to a study of dharma and meditation, and later to metaphysics and the realms of energy work, his career has found him serving in both fortune 100 healthcare environments and in independent practice.
Dan's goal in any client session is to get the roots of an imbalance, challenge or condition, analyze the emotional and behavioral patterns that root has presented throughout a lifetime, and identify how to resolve and transcend that pattern, to create a new path that is in alignment with the soul's true purpose.

Please note: Due to COVID-19 considerations, Dan is currently seeing existing clients only, on a limited basis. For availability, please email dan@intuitivebeing.org.
Mandy Zabohne

Specialty Areas: Cranio Sacral Therapy, Massage Therapy, Body Code, Reiki, Energy Work
Please note: Mandy is currently not seeing clients in person due to COVID-19, but is available for remote sessions. She can be contacted at mandy@intuitivebeing.org or via cell at (360) 528-9648.
All her life, Mandy has sought to make the world a better place, and her passion is in the heart-to-heart support of people to help them become the best and happiest versions of themselves. Mandy came to Olympia in 1998 to attend The Evergreen State College, where she graduated with a degree in political economy, environmental science, and art, while also working with Latin American solidarity campaigns and teaching as a volunteer in the state prison at Shelton. She has been highly influenced by the Anti-Oppression curriculum of Dr. Leticia Nieto, which places our personal, emotional struggles in the context of our place and privileges in society. Her commitment to social and ecological justice is a huge motivation to help individuals clear physical and emotional obstacles that prevent us from living as we know we'd like to live.
She discovered her love of healing arts while searching for a deeper level of that transformation. She graduated from Brenneke School of Massage in 2008, and soon after enrolled in the most in-depth cranio-sacral therapy program available in Washington, taught by acupuncturist Ursula Popp. The skills of cranial work combine beautifully with the energetic healing techniques of her mentor, Jennifer Nevy, including Body Code, Emotion Code, Natural Force Healing, Reiki, and Hands of Light. Both of these programs include a foundation of Five Elements Chinese Medicine, which seeks to understand the body and psyche as a natural system that heals through balancing itself. She also practices Polarity Therapy and Zero Balancing, along with continuing her education of Aromatherapy, Sound Healing, and Herbal Medicine. (She loves to study and she loves to share what she learns.) She uses Applied Kinesiology both as a tool in these healing techniques, and to discover which techniques are most helpful for each custom session. Everything she offers can be used for the treatment of acute or chronic injuries, complementary care, and relaxation, or personal growth, prevention, and wellness.
Mandy provides coverage for PIP claims (auto accidents), but otherwise does not accept insurance claims.
---
Paulette Guilbault
Specialty Areas: Massage Therapy, Dynamic Cupping, Gua Sha, Pregnancy Massage
Paulette graduated from Cortiva Institute of Massage Therapy Skills in Seattle in 2018 and has been loving every day she comes to work ever since. Born on the east coast, in Rhode Island, she has been a Pacific Northwester for eight years now. Her journey into the healing arts began when she was in the Navy and became committed to fitness, health and well-being, and fascinated with amazing functionality of the human body. The high stress, fast paced environment of the military helped her appreciate those little moments away to get a massage or indulge in a float. When she separated from the service, she decided she wanted to pursue a career in helping others find peace, balance and relief from pain and stress, and also just slow down with her own approach towards life. She is perpetually seeking knowledge on how we can heal ourselves through self care, stress reduction and overall mindset. In her words: she considers it such a gift to be able to do what she loves every day and in such a wonderful sanctuary like Oly Float. She looks forward to serving you while helping to illuminate the path to your healing and serenity.
Rachel L. Nickels (AKA Rachel Rose)
Specialty Areas: Massage Therapy
Rachel Rose is a Graduate of Alexandar School of Natural Therapeutics. She has been practicing massage since 2018, specializing in Swedish Relaxation Massage, Deep Tissue, Myofascial Release, Sports Massage, Injury Treatment, Postural Awareness, Prenatal Massage, Hydrotherapy and Aromatherapy. She loves learning new things, with a passion for Energy Medicine, Reiki, and Quantum Healing. As an empath and mother, she is caring and devoted to every individual's unique healing process. She believes in holding space for her clients to repair and heal during their session. Each individual has different needs that massage therapy techniques in conjunction with other natural therapeutics can help to resolve over time, all while relieving stress. Focusing on self-care plans for relaxation, rejuvenation, and recovery is always her top priority.
Tessa Miller
Specialty Areas: Massage Therapy, Trauma-Informed Care
Please note: Tessa is not currently seeing clients due to COVID-19, but hopes to return soon.
Tessa offers trauma-informed, client-centered, and mindful-based touch. She is a strong advocate for trauma-informed care and clearly centers this ethic in her practice. Tessa uses a variety of modalities (myotherapy, swedish massage, injury treatment, rehab/recovery, sports massage, deep tissue, neuromuscular facilitation, myofascial release, guided awareness, and led-intention work) to help clients facilitate alignment- body.mind.soul
​
Tessa earned her LMT through Bodymechanics School of Myotherapy & Massage; she also holds a B.A. in Psychology from The Evergreen State College where she studied East/West Psychology, Theories of Wellbeing, and Systems Change. While Tessa does not currently offer psychotherapy or counseling, she does bring this background to her work through personal coaching sessions, group trainings, guided mindful-awareness, and focused intention setting [FIS].
Passionate about social justice, mental health awareness, and embodying & encouraging a spirit of total acceptance, Tessa is continually striving to provide a safe, comfortable, and inclusive space for all. Furthermore, her rich history of both lived and academic experience with trauma and PTSD make Tessa a likely match for folks who are burdened by symptoms of PTSD: anxiety, depression, chronic fatigue, chronic pain, worry/fear/panic/hypervigilance, poor sleep, and related GI and nervous system complications.