Our Team & Practitioners
Floatation Therapy:
Taryn Marchie
Tyler Courtney
Kai Atherton
Robin Ralph
Savannah Burton
Alex Taschereau
Massage Therapy:
Intuitive Counseling & Energy Work:
Craniosacral Therapy:
Acupuncture & Eastern Medicine:
Somatic Coaching & Hypnotherapy:
---
The Oly Float & Soul Space Team
Specialty Areas: Floatation Therapy
Everyone you meet at Oly Float & The Soul Space is an experienced floater and can address any questions you have about floatation therapy and sensory reduction & relief.
Oly Float & The Soul Space is a independent business co-operatively owned by Dan Larsen and Taryn Marchie. As owner-operators of Oly Float and The Soul Space, it's Dan and Taryn's goal to be of maximum healing influence in our Olympia community, helping bring rest, relaxation and sanctuary into our stress-inducing culture.
Whoever you talk with at Oly Float, we'll help you identify the best approach to addressing your personal health and wellness needs, whether it's for injury management, sports performance enhancement, meditation and mind training, recovery from trauma, or just simple relaxation and escape from daily stress for an hour or two.
Dan Larsen
Specialty Areas: Energy Work, Applied Kinesiology, Allergy Elimination, Epigenetics, Floatation Therapy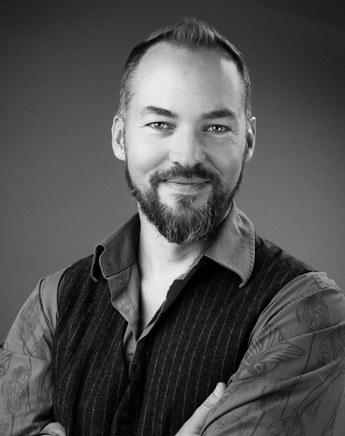 Dan wears many hats at Oly Float & The Soul Space. He is co-owner of the center, as well as its "Chief Experience Officer" and General Manager. Alongside serving as an experienced float guide, Dan is also an energy worker with Intuitive Being. Through Intuitive Being, he offers a range of wellness and energy work services designed to free you of your emotional baggage; re-pattern core beliefs; align body, mind and soul; and help you remember your true self that existed prior to challenging or traumatic experiences that changed how you thought about yourself. He employs a variety of healing modalities to perform clearings or corrections for those imbalances, including sound healing; electromagnetic stimulation; hands-on healing that includes reiki and qigong; light therapy, and more. He works with the mind, as a focused generator of energy, as its influence in all aspects of our being. He loves helping people with chronic, difficult states and conditions that other therapies have been unable to heal or resolve. He's also a passionate advocate for entheogenic medicines and loves working with people for pre-ceremony preparation and/or post-ceremony integration work.
Paulette Guilbault
Specialty Areas: Massage Therapy, Dynamic Cupping, Gua Sha, Pregnancy Massage
Paulette graduated from Cortiva Institute of Massage Therapy Skills in Seattle in 2018 and has been loving every day she comes to work ever since. Born on the east coast, in Rhode Island, she has been a Pacific Northwester for eight years now. Her journey into the healing arts began when she was in the Navy and became committed to fitness, health and well-being, and fascinated with amazing functionality of the human body. The high stress, fast paced environment of the military helped her appreciate those little moments away to get a massage or indulge in a float. When she separated from the service, she decided she wanted to pursue a career in helping others find peace, balance and relief from pain and stress, and also just slow down with her own approach towards life. She is perpetually seeking knowledge on how we can heal ourselves through self care, stress reduction and overall mindset. In her words: she considers it such a gift to be able to do what she loves every day and in such a wonderful sanctuary like Oly Float. She looks forward to serving you while helping to illuminate the path to your healing and serenity.
Rachel L. Nickels (AKA Rachel Rose)
Specialty Areas: Massage Therapy
Rachel Rose is a Graduate of Alexandar School of Natural Therapeutics. She has been practicing massage since 2018, specializing in Swedish Relaxation Massage, Deep Tissue, Myofascial Release, Sports Massage, Injury Treatment, Postural Awareness, Prenatal Massage, Hydrotherapy and Aromatherapy. She loves learning new things, with a passion for Energy Medicine, Reiki, and Quantum Healing. As an empath and mother, she is caring and devoted to every individual's unique healing process. She believes in holding space for her clients to repair and heal during their session. Each individual has different needs that massage therapy techniques in conjunction with other natural therapeutics can help to resolve over time, all while relieving stress. Focusing on self-care plans for relaxation, rejuvenation, and recovery is always her top priority.
Simone Jaggers
Specialty Areas: Massage Therapy, Craniosacral Therapy
Simone came to bodywork through her studies of Peace and Conflict Transformation, realizing that for individuals wanting to create a peaceful existence having peace within is the first step. Often times we are in conflict with ourselves on a physiological level, incurring pain and dysfunction with our everyday movements and postures. However, our bodies are not to blame, they do what it takes to keep us functioning. Sometimes in order to cope with the demands placed on it, our bodies choose the path of least resistance, creating imbalance and pain patterns. Simone understands that our bodies are our primary relationship in life and that supporting them in restoring and unlocking the natural health and intelligence within promotes a peaceful body and helps transfer to a happier life.
Simone has studied different forms of bodywork along her path for peace, taking specialty classes and programs to develop a robust tool kit for that path. She is first and foremost a craniosacral therapist, a therapy though seemingly subtle at first that has the potential to unlock great change and health within the body. She views craniosacral therapy (CST) as supporting the person's own system to be the magic that it truly is. CST focuses on the membrane system surrounding the brain, the craniosacral fluid within the cranium and the spinal cord as well as the cranial bones, sacrum, joints of the body and much more. Simone has also deeply studied different facial approaches from the Soma Institute, Judith Aston, and Crafted Touch Inc. She has studied nerve mobilization and neuromuscular massage and always loves to give a yummy Swedish massage. All her techniques are approached through a craniosacral lens and incorporate elements of craniosacral. Simone is also certified in mat pilates and is a certified personal trainer focusing on neuromuscular and somatic movements.
Brookelle O'Riley
Specialty Areas: Massage Therapy, Dynamic Cupping, Gua Sha, MyoFascial Trigger Point, BioEnergetics
Brookelle is an intuitive bodyworker who weaves energetic principles into her understanding of the anatomical structure of the body. She has trained in various modalities at Alexander's School of Natural Therapeutics, True Self Yoga, Morter Institute for BioEnergetics, and is continuing her education of Mindbody Medicine studies at the Evergreen State College. She combines modern science and traditional healing modalities for the deepest healing possible. To give clients a uniquely personalized session, her touch shifts seamlessly between being deep and pinpointed when warranted or soft and fluid when needed. Her goal is to help others achieve personal optimization and general wellbeing through pain management, stress relief, and revitalized energy. Using techniques like Myofascial Trigger Point Release, Cupping, Gua Sha, stretching, deep tissue, Swedish Relaxation Massage and Structural Integration, she works with clients to get to the root cause of symptoms in order to address the issues stored in the body's tissues and to promote sustained, long term healing.
In her free time, Brookelle is an avid yoga and meditation practitioner who has a deep passion for this earth, loving all things outdoors, she enjoys hiking and biking, and makes time for volunteering to give back to the community. Her mission is to expand her knowledge on bodily healing by pursuing a master's degree at Bastyr Center for Ayurvedic Medicine, so a substantial amount of time is happily spent with her studies and body centered practices. She hopes to one day be certified to share breathwork, nutrition, and meditation into her practice and currently she happily offers Yoga self care tips and individual Yoga sessions with her training through True Self as a certified Yoga teacher. Brookelle came to this line of work as a result of dealing with her own chronic body pain in the form of scoliosis. After receiving the relief the healing touch that body work can provide, she knew she had to share this work with others. Massage and body work gave her freedom, connection, and purpose that she feels a humble passion about sharing with others.
Christina Van Camp
Specialty Areas: Massage Therapy
Christina has been practicing massage since graduating from Everest College in 2012. With proficiency in relaxation massage, deep tissue, and cupping, she combines over a decade of technical experience with an intuitive approach to healing the body. She is an engaged listener who truly cares about healing each client's body and soul. Her experience crosses multiple arenas of body work, including medical, sports and spas.
Caroline Pettepiece
Specialty Areas: Massage Therapy
Caroline Pettepiece LMT, LMHCA has returned to Olympia and brings her twenty years in the field of healing bodywork to the amazing Olyfloat/Soul Space community. Formerly the owner of Caroline Anderson LMT and Blue Water Health, Caroline has returned to the beautiful Pacific Northwest after earning her master's degree in Somatically oriented Counseling Psychology from the California Institute of Integral Studies. Her bodywork style incorporates a variety of styles and techniques, and she can adapt your session from gentle energy focused work to a deeper tissue therapeutic massage or even a mixture of both. "Gentle deep tissue" is a phrase often used to describe her massages. Using long and flowing strokes, Caroline focuses on unwinding deeply held tension patterns and relaxing away the worries that can busy the mind. Caroline is skilled at active listening and works to meet you where you're at each session, knowing that our bodies are changing all the time.
"If we believe that the body is self, then when we touch another person, we are not touching 'a body,' but the very self of this person with our own self."
-Dr. James Kepner, a leader in the field of Gestalt Therapy
Michelle M. Bilodeau, DAOM, L.Ac.
Specialty Areas: Acupuncture and Eastern Medicine
Michelle is trained as a Doctor of Acupuncture and Eastern Medicine who has been in clinical practice for over a decade. Although her work is very integrative in its approach — drawing from Western as well as Eastern, physical as well as mental, emotional, and spiritual perspectives — she truly excels at crafting treatments, which access the deeper energetic roots of symptomatic presentations. In addition, she specializes in treatments that "reboot" the nervous system, providing the parasympathetic state needed for all healing and especially helpful for certain issues such as anxiety and stress management, PTSD, brain injuries, and others. As a physician, she believes presence, compassion, and wisdom are the most important qualities to bring to her patients' healing as well as a strong ability to meet people where they are at and hold space for them.
Megan specializes in supporting people in emotional agility, somatic experiencing and embodiment. Personal agency, sovereignty, integrity, honesty, self-respect & personal empowerment are at the foundation of her work.
She holds a safe, non-judgmental space, and guides you somatically to discover your truth within you. She believes deeply in the truth, "You must feel it to heal it."
Some common areas of life that Megan supports clients with:
Recover from people-pleasing, 'toxic' relationships
Embodying healthy boundaries
Processing the emotions of divorce/break-ups
Processing the emotions of betrayal & loss
Navigating from trauma bonds to conscious relating
Getting in touch with one's intuition & authentic 'yes' vs 'no'
Career changes, going back to school & other big transitions
Processing/releasing childhood & ancestral trauma
Choosing pregnancy or abortion
Uncovering & expressing your authentic voice (through writing)
Through this work, you will tap into, and cultivate your sense of self-empowerment, authenticity and truth.
Consistently, her clients leave their sessions feeling lighter, uplifted, clearer, grounded, hopeful, stronger & more empowered.
Previously, she spent 11+ years traveling the world, working with an international hypnotherapy company and has trained with some of the top people in the field of Embodiment. She's a devotee of Nondual Kashmir Śaivism, teaches Embodied Yoga, Yin & Yoga Nidra, and is also a Certified teacher of the Non-Linear Movement Method®.
When she's not working with clients or students, Megan can be found writing, drawing, adventuring or relaxing in nature, and welcoming more joy, ease, fulfillment, deep reverence & ridiculous laughter.
Please note that Megan is currently only available for online sessions.
​
Rapid Transformational Therapy (RTT) is a unique, award winning therapy method that helps resolve most deeply-rooted issues, often in just 1-3 sessions. It is a total solution-based treatment, combining the most beneficial parts of Hypnotherapy, Psychotherapy, NLP (neuro-linguistic programming), CBT (cognitive behavioural therapy), and Neuroscience, to offer exceptional, quick, and long-lasting results.
RTT goes beyond traditional hypnotherapy to find the root cause: it is equipped with many powerful tools to fix your blocks and to teach you proper ways to communicate with your mind. RTT can be used for both emotional and physical blocks. Read More About RTT
Emma knows what it's like to struggle with depression, anxiety, and trauma. She holds a safe, non-judgemental space as she guides you through your subconscious mind to help you release limiting beliefs and behaviours.
She has been on her own mental health journey since she was 12 years old. She went from living a life of trauma and low self-esteem to one of inner freedom, self-worth, joy, and abundance. When she re-programmed her subconscious mind using the power of hypnosis and realized it was so simple, she knew she had to help others like you feel the same. Read More About Emma
​